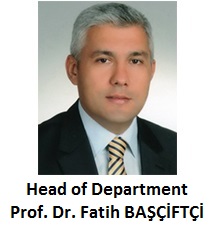 The main goal of our department is to provide a quality education for undergraduate and graduate levels. In accordance with the purpose of our university which is "to be among the top 500 universities in the world", analytical skills and expertise of our graduates which can be used in different fields, is aimed to be developed.
Teaching staff of our department is young and dynamic. Our experienced academicians help students on improving their skills in computer science and guide them in different areas.
If rapidly increasing importance of technology and computer sciences and their effects on our lives are considered, it's evident that our graduates will be in important positions with high responsibilities. In this context, grand duties await these students who have chosen "Computer Engineering" program. So we, unlike other engineering faculties, we are striving to provide more practice, laboratory, internship and cooperation opportunities with industry . Some of these opportunities are that during the workplace training our students will be insured and they will be able to earn 2/3 of minimum wage. Thus they will find early opportunities to meet with companies in their sector and their employment potential will rise. I would like to point out that there is no legal obscure for our graduates to receive engineering degree.
Computer Engineering Candidates,
By being a student in computer engineering department, you will be educated in basic engineering concepts and theories and you will gain essential knowledge, skills and proficiency. Our graduates will be able to serve in diverse government facilities and private sector just as they can pursue masters and doctorate degrees.
We would like to meet with you under the same roof of "Selçuk University Faculty of Technology Computer Engineering Department" and we are inviting you to be here and to benefit from offered modern education.